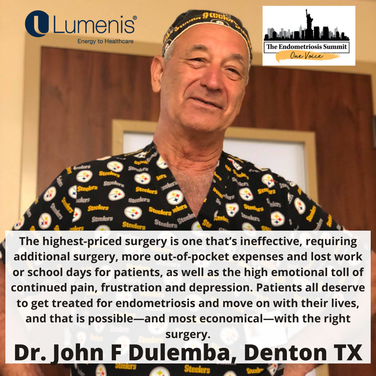 By John F. Dulemba, MD, FACOG
Gynecologist specializing in minimally invasive robotic surgery
The Women's Centre, Denton, Texas
When I first meet with patients who have endometriosis, they often cry. It's usually the first time a doctor has really listened to them, validating complaints that have been brushed off for years or explaining why hormone treatments and surgeries haven't worked in the past. After I've listened, I offer a clear plan to help.
I perform CO2 laser (AcuPulse DUO, Lumenis) excision with the robot, which many consider to be the gold-standard surgery for endometriosis. The procedure is not inexpensive—the robot and the laser may add to the costs of surgery—but a truly effective procedure is cheaper than having repeated treatments that do not work. The highest-priced surgery is one that's ineffective, requiring additional surgery, more out-of-pocket expenses and lost work or school days for patients, as well as the high emotional toll of continued pain, frustration and depression. Patients all deserve to get treated for endometriosis and move on with their lives, and that is possible—and most economical—with the right surgery.
CO2 Laser Excision with the Robot
To treat endometriosis effectively, we need to perform surgery to remove the abnormal cells. How well we do that will determine whether surgery is a long-term success. If we leave cells behind, there will be greater inflammation, pain and damage to adjacent tissues, as well as greater need for further surgery in the future.
In CO2 laser excision with the robot, the robot allows the key function of 3D and 10-times magnification, which in turn permits me to see all of the endometriosis (I need to see the cells to remove them). Once visualized, the work of removing the endometriosis is accomplished using the CO2 laser energy through the FiberLase waveguide. I can remove the endometriosis very precisely, damaging adjacent tissue at a thickness of less than one cell, as opposed to the harmonic scalpel, which can easily damage thousands of cells next to the disease I'm trying to remove. As a result of laser use, there is minimal damage to the nerves, blood vessels, organs, fallopian tubes or ovaries.
The laser also cauterizes as it cuts, so there is very little bleeding, which makes it easy to always see the endometriosis and keep track of where I am. And by reducing bleeding and collateral tissue damage, we reduce pain and limit stimulation of the body's inflammatory response, which would trigger an increase in formation of scar tissue and adhesions that could cause additional pain and repeat surgeries. All of these advantages make CO2 laser excision with the robot well worth the additional cost, as well as the most cost-effective choice long term.
Less Chance of Additional Surgery
After CO2 laser excision, a patient is less likely to need a repeat procedure compared to other surgical options, but it is possible. We can only remove the cells we can see, and hormones (natural and artificial) can stimulate more cells to become active and visible later. In addition, even with such a precise procedure, there can be some adhesions as the body heals. I want my patients to understand that if they have a problem with endo or adhesions, we can address it with a repeat procedure, but they will not be having an endless series of ineffective treatments.
This gold-standard surgical approach offers patients the best opportunity to feel good with the fewest surgeries possible, so they won't always keep paying the exorbitant price of managing endo. I hope to see more people with endometriosis find doctors who are performing CO2 laser excision so they can experience the best long-term outcomes for their health and quality of life.
Here Dr Dulemba present on the role of adhesions in endometriosis on March 7, 2021 at Endo Summit 2021, held VIRTUAL.