The Endometriosis Summit: March 8-10 2024
The Endometriosis Summit invites the world to ROAR and move endometriosis forward during a three-day interactive exploration of endometriosis and pelvic pain
This year's event is an endometriosis extravaganza featuring interactive workshops, lab trainings for surgeons and physical therapists, research based panels on gaslighting, tailbone pain, and the microbiome,  video sessions, surgical didactics open to both patients and practitioners, a breakdown of sleep and its effects on chronic pain, and of course, our signature Patient and Practitioner Town Meeting. We offer for the first time in the United States a live time imaging lab on the latest techniques in MRI and Ultrasound for endometriosis. We curated a weekend to delve into nearly every aspect of endometriosis, perfect for those newly introduced to endometriosis and for experts alike.
Understand endometriosis from diagnosis to whole body healing-as a patient and as a practitioner.
All days are open to BOTH patients and practitioners. Labs and select activities are more appropriate for licensed professionals. 
Virtual Livestream will be MainStage only.  
Join industry leaders in discussing the future of endometriosis treatment. Endo Summit Surgery teaches surgeons, physical therapists, advocates, and patients. We educate and advance endometriosis training with open and honest, unfiltered, collaborative discussions. It is a day of surgical videos, lectures, and interactive labs. We welcome Dr. Mario Malzoni, renowned surgeon from Italy, as our Keynote. We will also feature, for the first time in the United States, imaging education lead by Dr Mauricio Abrao, Brazil and Dr Alessandra Di Giovanni, Italy, with live demonstrations. Surgeons will be able to see and ask questions as the emerging techniques in imaging are discussed and displayed in real time. With an OPTIONAL Lab Add-On.
Our Surgical Boardroom engages the audience in the decision making process during surgery, as do the discussions by our faculty on Dueling Podiums. Sessions on mental health and groin, leg, hip and vulvar pain round out the didactics. Our musculoskeletal lab features an exploration of Groinocology which will include in-depth hip and vulvar evaluations, plus activities with MRI and hernia. For everyone, patient and practitioner alike, Endo Summit Surgery will be a day filled with disease specific education.

Come on the journey of life with endometriosis at Endo Summit Workshop.  Explore individual topics affecting those with endometriosis. Perfect for the practitioner, care taker, physical therapist, or person with endometriosis who wants to delve deep into the journey of endometriosis. The day is meant to be interactive and thought provoking.
This year's Endo Summit Workshop explores How to Create a Movement for change, the Trauma of Gaslighting, Reasons why Insurance Reimbursement has failed doctors and people with endometriosis, the Microbiome and Connective Tissue Disorders. We will also feature a session on how to talk to partners, caregivers, and family members about what you need with endometriosis. We round out the day with our first ever breakout sessions on Functional Medicine, Tailbone Pain and Optimizing Fertility Outcomes.  
Held in Margaritaville Orlando, we create a cozy, warm environment that fosters connection, conversation, and focus. Fins Up for an allergen friendly  lunch with the Cheeseburger in Paradise optional. 
For all seeking a safe harbor from the storm of endometriosis, Endo Summit Workshop is for you. 

Come one, come all to The Endometriosis Summit's Patient and Practitioner Town Meeting. This year we are challenging the underpinnings of endometriosis with panels and discussions. Our signature event features panels on policy, surgery, gaslighting, exercise and endometriosis and an all patient panel on life with endometriosis. We gather the endometriosis community to change the narrative of endometriosis. For those who have the disease, those who treat the disease, and those who love and support people with endometriosis this is the place to roar and be a societal disruptor.  There is a patient lead panel, based in lived experience and research on gaslighting. We investigate athletics, exercise and endometriosis. All in our Town Hall, Open Mic format.  
*Please note, Endo Summit Town Meeting discussions are for theory and education—not personal case discussion.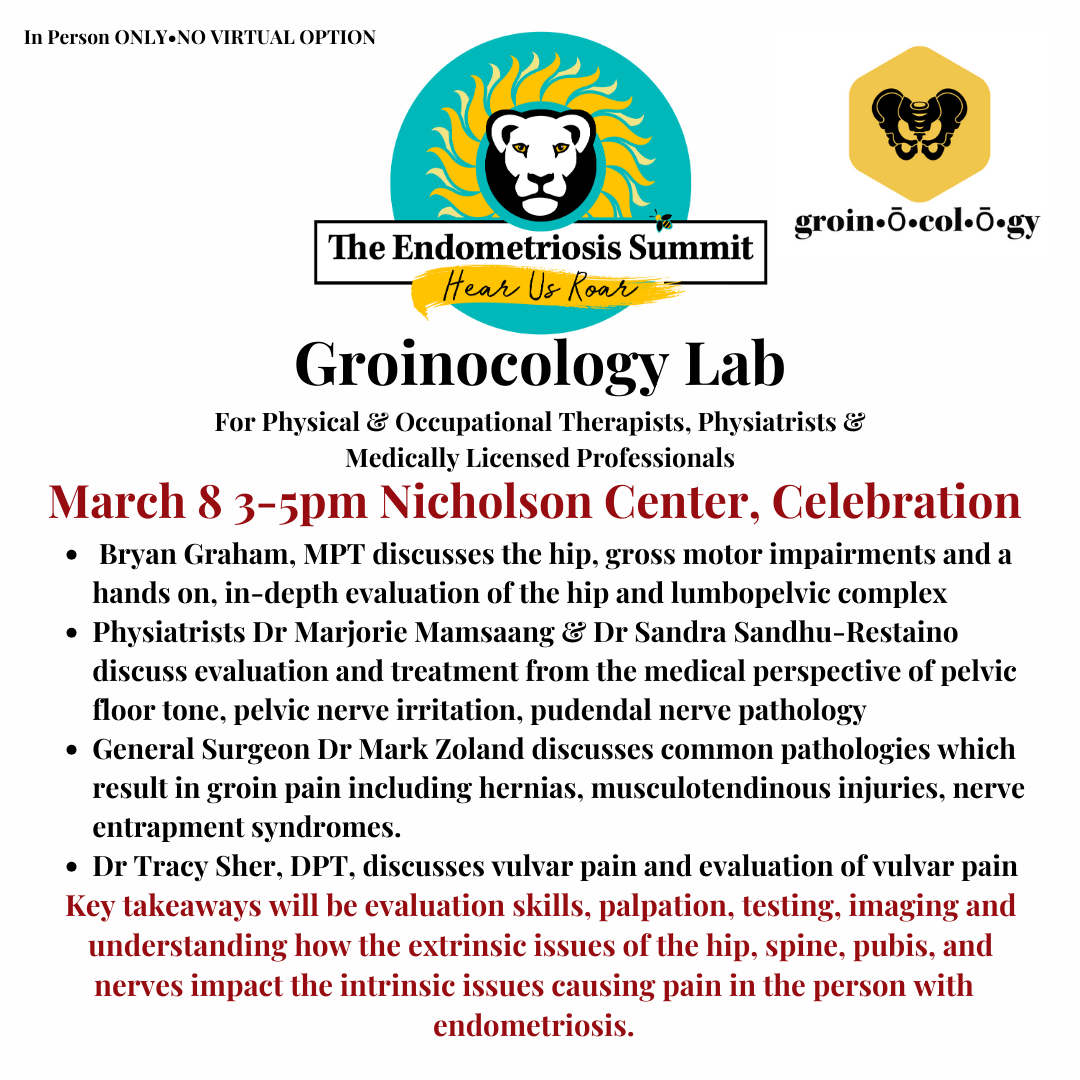 Become a Groinocologist
Understand groin, hip, and pubic bone in an in-depth, hands on, lab is for you. This multi-disciplinary lab features practitioners from different specialties. Key takeaways will be evaluation skills, palpation, testing, imaging and understanding how the extrinsic issues of the hip, spine, pubis, and nerves impact the intrinsic issues causing pain in the person with endometriosis.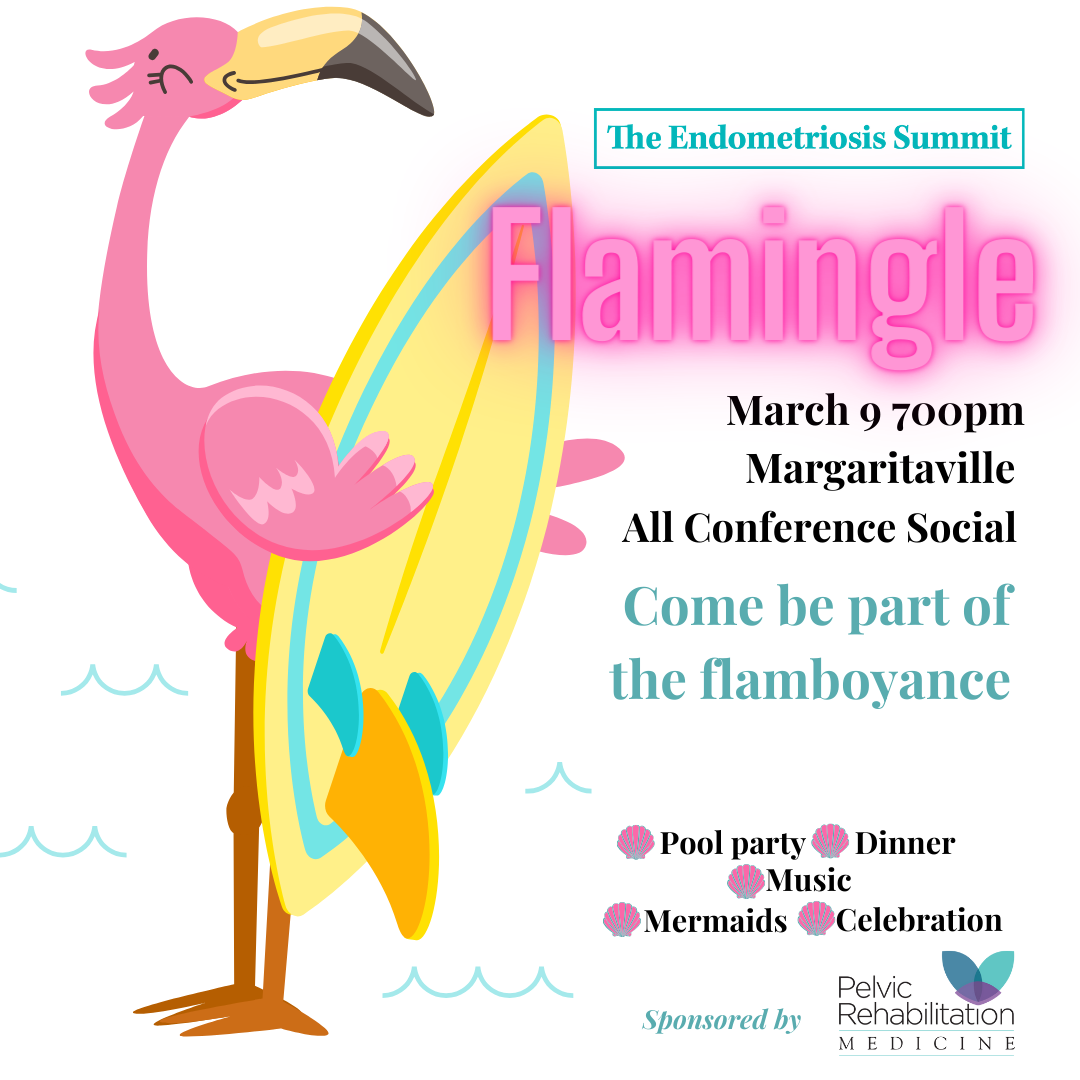 Come be part of the Endo Summit Flamboyance! We will host an evening social event at Margaritaville for all conference attendees. Dinner, Music, and Mermaids. Registration is required
Join Tracy Sher and everyone else in the GPHAM-ily for cocktails after Endo Summit Workshop. Must show proof of GPHAM membership.
Please come dressed in comfortable clothing, better yet wear your Endo Summit Apparel! The Nicholson Center is often quite chilly. Please dress in layers.
The Conference Hotel is Margaritaville, Orlando, Orlando, International (MCO) is the closest airport. Please see registration platform for more detailed travel information.
Transportation will be run on a limited time loop, in the am and back again in the pm,  from Margaritaville to The Nicholson Center on Friday and Sunday. Schedule TBA soon. Participants not planning on traveling during scheduled times should utilize Uber or Lyft or rent a car. 
Tired of the bias driven decisions, infighting, and the one upping? Looking to advance your skill and knowledge base regarding endometriosis?
The Endometriosis Summit 2024 aims to unite the endometriosis community to Drive Endometriosis Forward